From Antwerp, it's the summer of Slow Art ..

Dear ,
There is a lot to do in Atypical Antwerp this summer!
https://www.visitantwerpen.be/en/sightseeing
There is always something going on. a Baroque revival, a photo exhibition where nudists are welcome Untitled (nude),  open air cinema, a museum night (August 4, 2018),…several music festivals (Jazz, World music, techno,…), a fine African art exhibition in my shop…!
Plan your perfect Antwerp summer, and take some time to visit me !
https://www.visitantwerpen.be/en/sightseeing
And don't forget to discover the MAS collections
http://www.mas.be/en/content/what-display
Two streets around the corner of my Shop The Snijders & Rockox House reopened it's doors.
Antwerp is even nr.6 of Lonely Planet's top cities for 2018
http://wanderlustvlog.com/blog/lonely-planet-selected-antwerp-top-10-cities-visit-2018/
time for slow art
In the afternoon, pick out one of Antwerp's museums or visit some Art Gallery's. Slow art is a new trend in which you really take your time over a selection of artworks. Instead of hurrying through all the rooms or visit all the shops and galleries in Antwerp and glancing at (and possibly photographing) hundreds of works, select a few to really take in properly. The result will be that you see and learn far more. Ignore all the explanatory texts and don't be afraid to skip a few rooms. A few tips.
Walk into a museum room or gallery and choose a work that appeals to you.
Examine its form, colours, characters, story, details. Allow questions to form in your mind. Ask details to the museum guides or the shop owner
Make notes or a drawing if you wish, or ask to take some pictures.
Change your position and look from a different angle. Or walk around the work.
Finished looking? Consider what has stayed with you. What has surprised or amazed you?
If it is in a shop or gallery ask the price and if you can afford it, take it home.
I'm looking forward to showing you my new acquisitions,fine masks and statues, some published in books or coming from known collectons, we can exchange some views on our common passion, and I even can give you free tips on how to avoid the pittfalls involved in collecting African art that will allow you to avoid costly mistakes.
My wine cellar, teapot and a new coffee machine are all awaiting your arrival, to accompany advice and chat. Just drop me a line, and whether or not you fall for one of the cuties in my shop, the advice and the wine are free anyway!
But you sure don't have to come to Antwerp to buy something from me.
A Prestige pre-1930 selection of  50objects coming from the collection of a Belgian scholar specialized in the African art field who wants to remain anonymous.
I have a new exclusive auction going on, with 50 attractive lots all coming from the collection of a mysterious Belgian scholar specialized in the African art field who wants to remain anonymous. . I'm so certain you will love them that they come with free delivery, a full exchange guarantee, full written descriptions and most of them also have custom made bases. Some of them have no reserve price, and all start with very low bids! Come take a look:
https://auction.catawiki.com/lotsfrom/nordend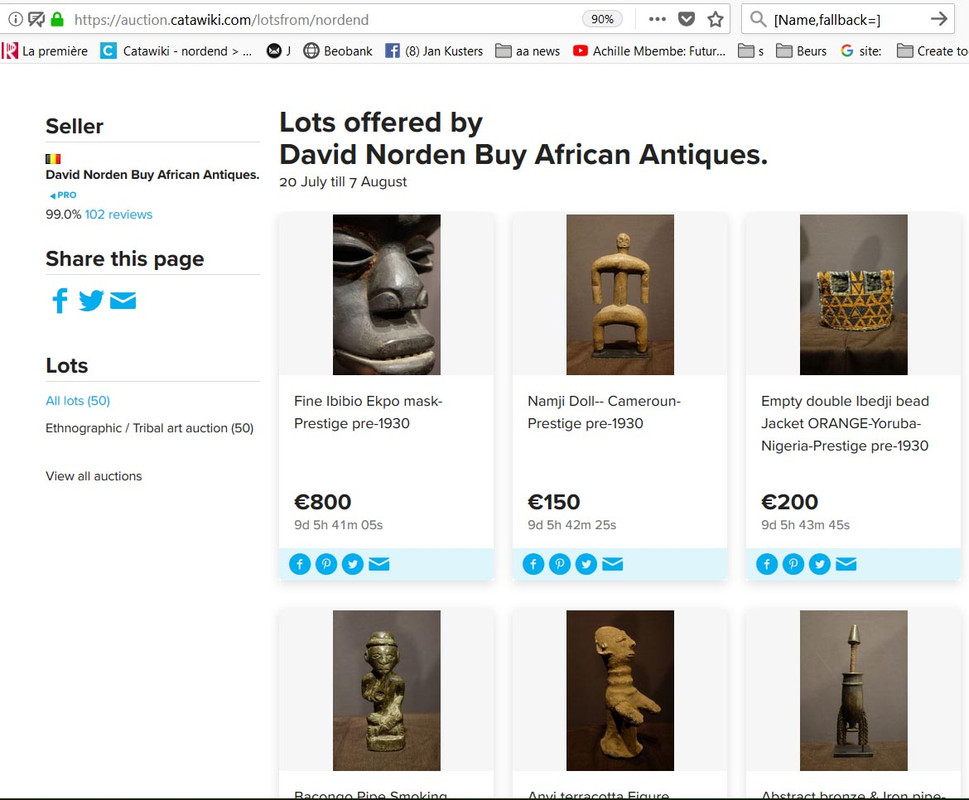 See them ALL: https://auction.catawiki.com/lotsfrom/nordend
Happy "Slow Art" bidding,
David Norden

Sint Katelijnevest 27
B2000 Antwerpen – Belgium
+32 3 227.35.40
Read Online:
http://africanart.press/sendy/w/nmII34IGaC0bdnw7N3KZJA
Unsubscribe link:
http://africanart.press/sendy/unsubscribe-success.php?c=16